GET THE GODDESS GLOW THIS NAVRATRI WITH HIBISCUS NATURALS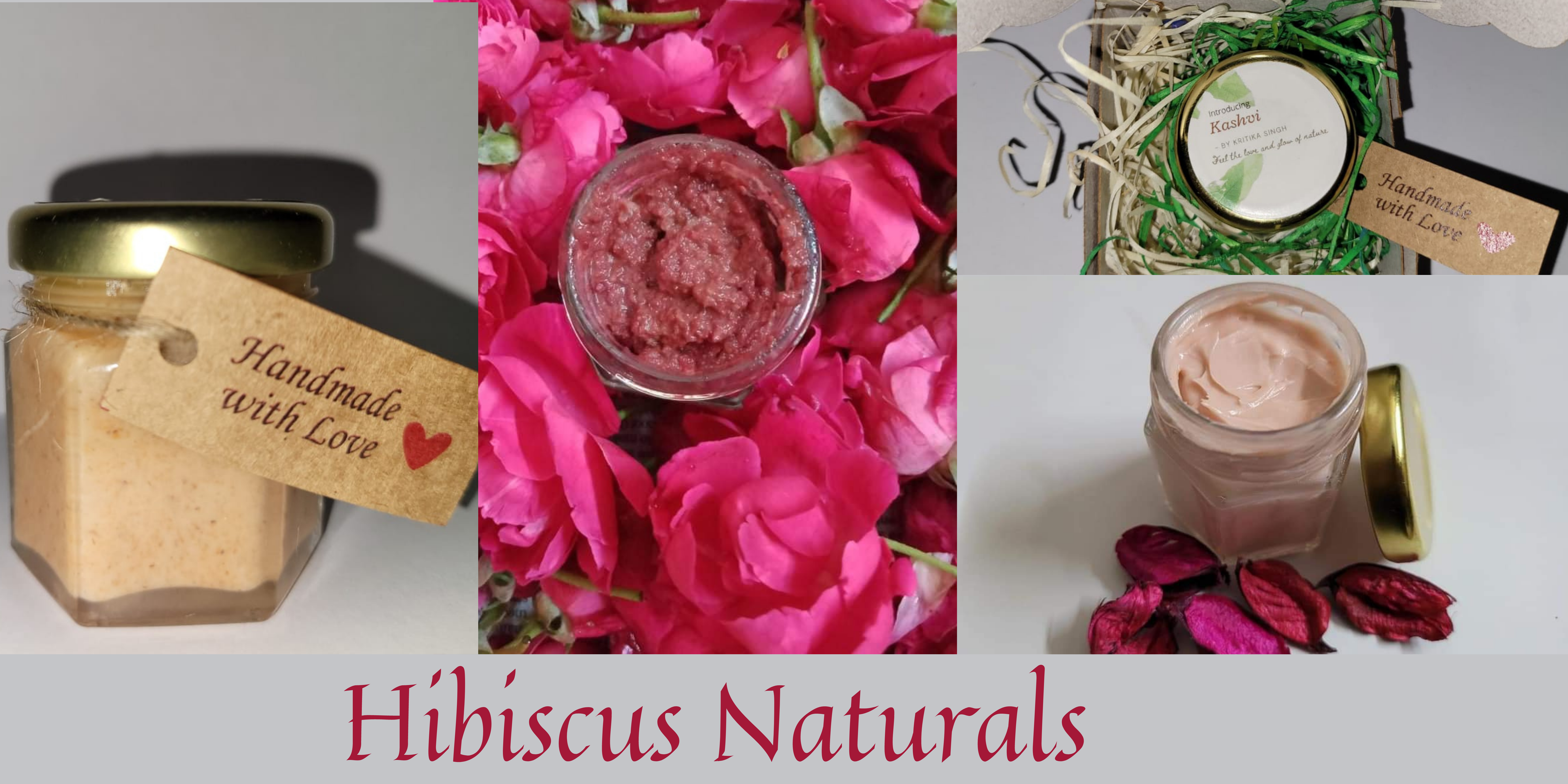 Festivals can ultimately result in one of two outcomes: a fantastically joyful and energetic day when you look your best, or a grueling, sweaty day due to the heat and humidity. While sweating is a completely natural human body function, heat and sweat can create a variety of skin issues, including clogged pores, blackheads, acne, pimples, and burning rash. Cosmetics by Hibiscus Naturals here come as a savior for your festive look. Just a few products can save you from being discouraged and will keep all your skin problems at bay.
Have you ever forgot to remove your makeup before going to bed? It certainly turns out to be a nightmare the second you wake up with breakouts and zits. Hence, you must always make sure to remove all of your makeup and cleanse your face with a cleanser. Now, this brings us to a couple of moot questions, have you ever wondered what ingredients do your cosmetics contain? Can they harm your skin? Well, chemical-laden products do harm your skin, and the only answer to these questions could be that these high-end brands don't bother to invest in identifying natural ingredients that heal and soothes the skin. Contrary to those brands that lack consideration for people's skin and general welfare, Hibiscus Naturals puts consumers' welfare first; they are committed to quality, safety, and sustainability. They prove themselves worthy of your trust because the ingredients they use are either sourced from your own kitchen or sourced from nature (trees, plants, and herbs) itself.
Hibiscus Naturals seeks to revive the ancient, royal, and natural beauty regimes. Even science has proved that the ubtan made from Haldi, Chandan, Curd, and Besan, that your mom used to put on you when you were a kid is actually beneficial. Taking this as a foundational idea, Kritika Singh launched Hibiscus Naturals on 2nd October 2020, aiming to provide natural and high-quality skincare with effective and risk-free results.
Kritika, since her childhood was very conscious of her skin and was always encouraged to use natural homemade recipes for her skin problems, which perhaps was the seed for the tree that Hibiscus Natural is today. Like any other middle-class girl, Kritika aspired to be an engineer; on completing her B.Tech, she got placed in an MNC. She was well ensconced in her career and was doing well for herself but something was amiss. She never really enjoyed what she was doing. Her heart was elsewhere.
Marriage happened and then she became a mother. Her maternity leaves gave her the time and space to think about what she really wanted to do in her life. The prospect of going back to her IT job didn't excite her anymore. It was time; time for her to come into her own, to be who she always wanted to be, to be whom she was meant to be. She gave up her job, her career in IT; one of the most difficult decisions of her life and embarked on a new journey.
Her interest in understanding skin problems and identifying natural recipes to cure them is what got her to research natural ingredients that have the potential to transform inherent skin texture. Her research led her to numerous natural ingredients that could possibly alleviate common skin problems but she needed to learn more. She quickly recognized the need for a structured approach to learning and hence got herself enrolled in an internationally acclaimed course in natural skincare. The course opened unexplored avenues and gave her a fresh new perspective on natural skincare. The course gave her the requisite knowledge of untapped natural ingredients, their composition, properties, etc.
The foundation was set, the building blocks were in place, the desire to do what she loved was stronger than ever and all this led to the inception of Hibiscus Naturals. Through her brand, Kritika wanted everyone's skin to feel nature's love. This brand not only gives Kritika an opportunity to do what she loves but disrupt the natural skincare industry.
Strength and support are key features in every success story, and Kritika gives the credit to her whole family for her success. They have supported her during her journey and have given her the confidence to aspire for more.
"Hibiscus Naturals aims to provide affordable, natural skincare to one and all. Beauty is all around us, in the form of flowers, plants, fruits, etc.; Nature's gifts. Hibiscus Naturals, through these nature's gifts, aims to transform your skin." says Kritika.
The aim behind Hibiscus Naturals is to make people understand that green cosmetics are the future.
Hibiscus Naturals is providing a special benefit to their customers with a range of customized products. Customers can customize the products according to their skin types and choose the ingredients that they want for themselves.
Hibiscus Naturals is an early-stage start-up trying to change the paradigm of skincare products. With no initial funding, the company has grown organically and is homegrown, quite literally. The determination, enthusiasm, and ambition of its funder Kritika Singh fuels this start-up.
The personal care industry has grown significantly after the advent of e-commerce platforms soon Hibiscus Naturals products will be available on all the leading e-commerce platforms.