Under the Aegis of Azadi Ka Amrit Mahotsav (AKAM), India's Top Emerging Anecdote Publishing House honored Top 75 Librarians' Professional of India under the Collaboration of the leading emerging English Newspaper Urban Hearld by Indian Librarian Pride Award (ILPA)-2022. It's a first time in India to honor Knowledge Workers. On the eve of the National Librarians' Day all Top 75 Library Professionals honored by e-Citation of Indian Librarian Pride Award (ILPA)-2022.
It's important to know, these selection are based on the Independent Survey carried out by Anecdote and Urban Hearld. It has been considered last 5-10 Years performance and Social Media Visibility with Nomination and Recommendation. Quite surprising that almost all states and Union territories are covered in these 75 Top Library Professionals. If we see the State wise response than we considered like from Andhra Pradesh State Mr. Reddi Ramana (INELI India Innovator –Cohort-II), Arunachal Pradesh Kamalnath De (INELI India Innovator-Cohort-I) , Dr. Dhananjay, From Assam State Mr. Balen kalita (INELI India Innovator-Cohort-I), Prof. Dr. Manoj Kumar Sinha, from Bihar State Dr. Amit Kishore (Bestseller Author ), Kaushal Kishor Choudhari (University Librarian), From Chhattisgarh and Goa State Dr. Carlos M, Fernandes (Goa Public Library) from Gujarat and Haryana Dr. Anil Jharotia University Librarian, R.N. Malviya University Librarian, Dr. Lata Suresh HoD, KRC Indian Institute of Corporate affairs, from Himachal Pradesh and Jharkhand State Dr. Sanjay Kumar Karn University Assistant Librarian & Library In-Charge, Central Library Ranchi University. From Karnataka State Mr. H.R. Naryana Murthy Retd. Selection Grade Librarian of Tunga College. From Kerala State Mrs. Shobhana PK, State Librarian , State Central Library Thiruvanthapuram, Kerala (INELI India Innovator-Cohort-I), Binoy Mathew(INELI India Innovator-Cohort-II), from Madhya Pradesh (Bhopal) Dr. Prabhat Kumar Pandey Librarian & Head of the Department of Library and Information Science. Dr. Sonal Singh Associate Professor School of Studies in Library and Information Science. Dr Sandeep k. Pathak Librarian Indian Institute of Science Education and Research Bhopal. Santosh Kumar Kori Librarian Govt. College Chandla. Dr Sudhir Kumar. From Maharashtra (Mumbai) Dr. Ramanik K Lengure Librarian Renuka College, Nagpur, from Manipur , Meghalaya and Mizoram State Dr. Manoj Kumar Verma Associate Professor Department of Library and Information Science. From Nagaland Dr. Talitemsu Ao, (INELI India Innovator-Cohort-I), Deputy Director Border Affairs Commissioner Office Kohima Nagaland Kohima, From Odisha (Bhubaneswar) Dr. Vinod Kumar Mishra Assistant Librarian B.P. Central Library NIT Rourkela. Dr. Bikram Keshari Shukla Librarian Ajay Binay Institute of Technology CDA Cuttack.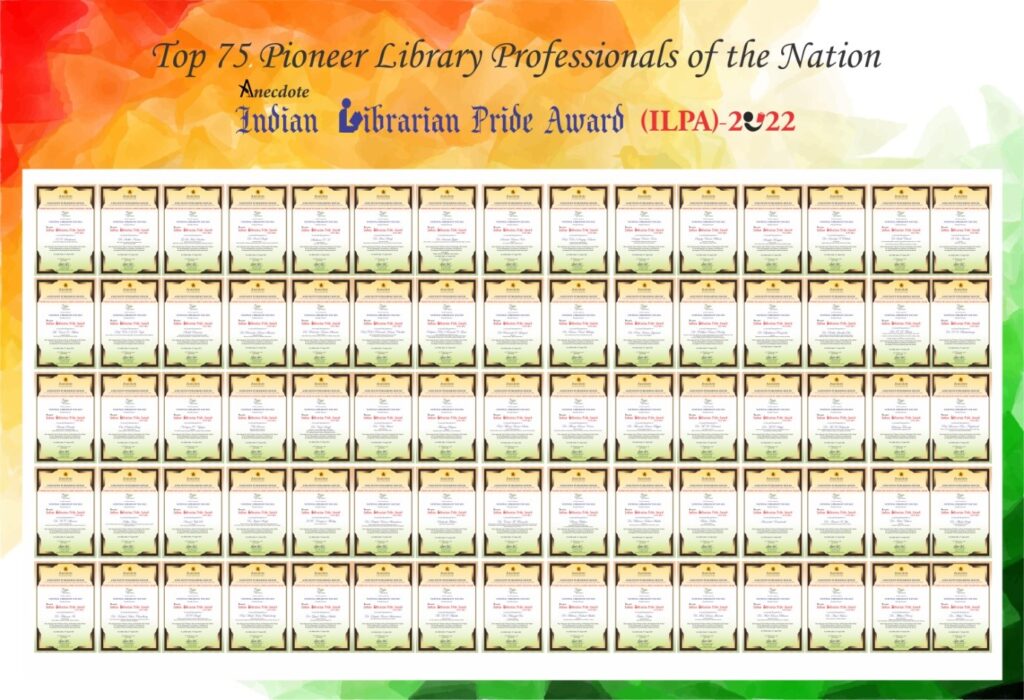 From Punjab State: Prof. Jagatar Singh, Dr. Sewa Singh, M.P. Satija, D.P. Tripathi, Kulbir kaur, from Rajasthan State P.R. Meena Librarian & Head Dr. Robert Heilig Library, S.M.S. Medical College, Jaipur. S.D. Vyas Prof. (Dr.) S.D. Vyas Former Professor and University Librarian of Banasthali. Dr. S.P. Sood Retd. Head & Associate Prof. in Lib. & Info. Science, University of Rajasthan. Dr. M.R. Rawtani Ex. Professor & Head, Deptt. Of Library and Inf. Science University of Rajasthan. Dr. Deepak Kumar Shrivastava INELI South Asia Mentor and IFLA Wall of Fame Achiever, Divisonal Librarian and Head, Govt. Divisional Public Library, Kota, Dr. Santosh Gupta Assistant Professor Department of Library & Information Science University of Rajasthan and Om Prakash Garg Retd. Librarian College Education, Rajasthan.
From Sikkim State: Sangita Bomjan OSD/State Librarian, State Central Library Sikkam (INELI India Innovator-Cohort-I), from Tamil Nadu State Mr. A.P. Sivakumar, District Library Officer (DLO), Tiruchirappalli Noolagar P. Vijayan Librarian Govt. Public Library Kovaipudur, Dr. M.A. Deepmala Library and Information Officer, Rajiv Gandhi Centre Tamilnadu.
From Telangana State: G. Sri Hari Sankar Deputy Director of Public Libraries Telangana, Prof. Laxman Rao, Nagubandi Prof., Dept. of Lib. And Info. Science and Director, UGC-Academic Staff College, Osmania University, Hyderabad, S. Sai Avinash, Librarian, Raj Bhawan, Telangana.
From Tripura (Agartala): Abhijit Saha Librarian Swami Vivekanand Mahavidyalaya, Mohanpur, Tripura. From Uttarakhand (Dehradun): Dr. Anil Dhiman Information Scientist.
From Uttar Pradesh State: Dr. Gopal Mohan Shukla Librarian, Prof. Hirak Kanti Chakraborty Head Deptt. Of Lib. & Info. Science Dean, Faculty of Adhunik Gyan Vigyan, Dr. Prem Kumar Jayaswal Retd. Director General RRRLF, Prof. U.C. Sharma Head DLIS Dean of Atrs. Hon. Librarian, Dr. Maneesh Kumar Bajpai Deputy Librarian, Dr. Akhtar Parvez University Librarian, Prof. (Dr.) Sanjay Kataria Prof & University Librarian and Founding Librarian BITSoM.
From West Bengal State: Dr. Biswajit Das University Librarian, Dr. Partha Sarthi Das Assistant Library and Information Officer, Dr. Pijushkanti Panigrahi Prof. Dept of Library and Information Science.
In Union Territories, Andaman and Nicobar Island (Port Blair): Dr. Abdul Naseem Incharge State Library Port Blair. From Chandigarh Dr. Neeza Singh Librarian T.S. Central State Library INELI South Asia Mentor and IFLA Wall of Fame Achiever, IFLA Standing Committee Member. Dadra and Nagar Haveli and Daman & Diu (Daman).
The Government of NCT of Delhi Prof. P.B. Mangla Former Head, Dept of Library and Information Science, Prof. (Dr.) Ravinder Kumar Chadha Tagore National Fellow, Ministry of Culture, Ex Additional Secretary, Parliament of India. Prof. (Dr.) Ramesh C. Gaur Director National School of Drama (NSD) & Prof. & HoD Kalanidhi Division. Prof. K.P. Singh Department of Library and Information Science. Dr. Salek Chand Sr. Documentation Officer and Head National Documentation Centre. Neeti Saxena Stakeholder Relations Manager, Regional Libraries South Asia. Dr. Anand A. Jha Treasurer in Library Public Association. Dr. Akash Singh Assistant Librarian. Dr. Ravinder Kumar Sharma Director General Delhi Public Library Ministry of Culture. Dr. Nabi Hasan Head Librarian, Indian Institute of Technology Delhi. Dr. P.K. Bhattacharya Senior Fellow & Associate Director Knowledge Resource Centre. Urmila Rautela Assistant Library & Information Officer Delhi Public Library.
Jammu & Kashmir UT Prof. (Dr.) Abdul Majid Baba Dean Cum University Librarian/Head Integral University, Luck now, if we see Ladakh (Leh) Lobzang Tsewang Librarian, Libraries & Research Department Leh. Lakshadweep UT Mumthaz Beegum Librarian State Central Library Lakshadweep. In Puducherry and Dhaka Sanjay Kumar Bihani Second Secretary (LIO) High Commission of India, Dhaka and from Nepal Dashrath Mishra Chief of Nepal National Library (NRI- Originally belongs to Bihar).
Mr. Sagar Azad CEO Cum Founder President Anecdote Publishing House New Delhi said that it's not easy task to conferred to 75 Top Knowledge workers amongst the Huge community and where everybody is doing too good but ultimately those who are shining through his and her work has been considered in Top 75.